Stimulus Checks 3.0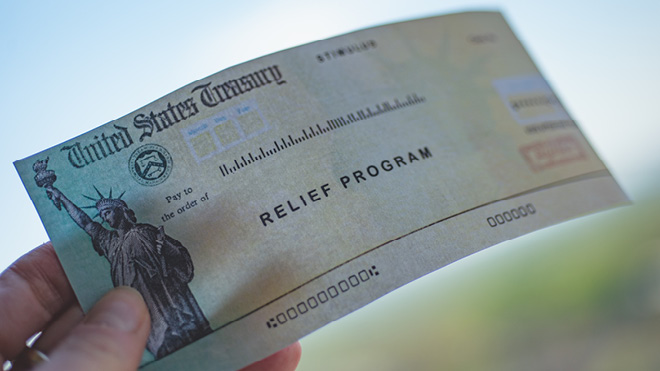 Information on the latest federal relief payments as part of the American Rescue Plan Act of 2021.
The IRS and Treasury Department have begun delivering a third round of stimulus checks. Some payments have posted as early as March 17, 2021. Please note: pending deposits cannot be released sooner than the IRS allows. For additional information, please visit irs.gov.
Updated Mar. 15, 2021
More stimulus payments are here, but unlike previous rounds of relief, this one is more focused on lower-income earners. Qualifying for an earlier round of stimulus payments does not guarantee a stimulus check from this round. For the most updated guidelines, please visit IRS.gov.
On Thursday, March 11, President Biden signed the $1.9 trillion American Rescue Plan Act of 2021 into law. This third COVID-stimulus package includes up to $1,400 for eligible individuals, $2,800 for couples and $1,400 for each dependent. Income criteria for this third round of stimulus payments has changed.
Review income eligibility details on the IRS site
Who is eligible for the third round of stimulus payments?
Eligibility is determined by the IRS. The income requirements are different with the third round of stimulus payments. Individuals who filed taxes and reported adjusted gross income (AGI) up to $80,000 on their 2019 or 2020 tax returns will receive up to $1,400. The cut off for head of household is $120,000 and $160,000 for couples filing jointly.
You will not receive stimulus funds if you earn more than these amounts.
How much will I receive?
The income requirements changed with this third round of stimulus. Qualifying amount depends on income level, tax filing status (single, joint or head of household) and dependents. The basic guidelines are as follows:
Single with an adjusted gross income (AGI) earning less than $75,000 will receive $1,400. Those earning more than $80,000 receive nothing.
Couples with a combined adjusted gross income (AGI) of $150,000 or less will receive $2,800. Those earning more than $160,000 receive nothing.
Individuals who file as head of household with an adjusted gross income less than $112,500 will receive $1,400. The payment is decreased and reaches 0 at $120,000.
Eligible dependents may be worth up to $3,000 in child tax credits as well as periodic payments in 2021.
When will I receive my check?
Remember, not everyone will be eligible for payments with this latest round of funding.
The White House said Thursday 3/11/2021 that payments will start going out as early as this weekend, with the IRS and Treasury Departments processing and sending stimulus checks as soon as this weekend. Direct deposits will go out first, followed by checks and debit cards.
How will the checks be sent out?
If eligible, payments will likely be received in the same manner of previous stimulus payments. If you received Direct Deposit for Stimulus Round 2 in January, you will likely receive it that way again (if eligible). If the IRS already has your credit union or bank account number on file, the stimulus check will be automatically deposited directly in your account via ACH transfer.
No action is required on your part.
Can Seasons FCU tell me when I will receive my direct deposit check?
No. Only the IRS has that information, visit IRS/get-my-payment to learn more. However, you can check your account balance within Online Banking & Mobile Banking App.
Once the stimulus check is deposited, when will I have access to my funds?
For funds deposited directly (ACH transfers), your money will be available in your account the same day we receive the funds from the IRS.
Physical checks will need to be deposited. Depending on the deposit time, most members will receive access to these funds within one business day.
The IRS has begun processing payments and those eligible should start seeing funds as early as Mid-March.
To find out the status of your payment visit https://www.irs.gov/coronavirus/get-my-payment.
Related Content