SFCU Online Banking
We're improving the way you bank. Experience our online banking by logging in today. This new online banking experience will provide much of the same functionality you have been accustomed to (bill pay, transfer funds, account alerts, mobile deposit, etc.) while introducing new features in a fresh, easy-to-use interface, and member experience.
Let's take a closer look at our new layout: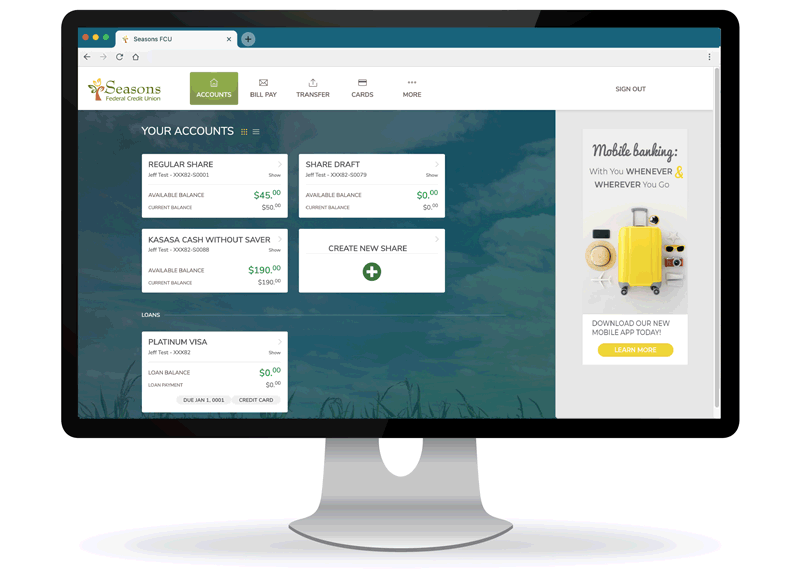 Accounts
The Accounts tab provides quick access to view transaction history. Here you can open a new account from the comfort of your home or while on the go.
Bill Pay
Pay your bills and make other payments from your Seasons FCU checking account from your computer or mobile device—for free. With Bill Pay, you can make one-time payments, set up recurring payments, and track the history of your online payments. We make it easier for you to manage your bills online.
Transfers
The Transfers tab offers quick transfers between your accounts, plus access to schedule transfers, transfer to another member, and set up transfers to and from accounts or loans at other financial institutions.
Cards
Your card not in its usual spot? Turn your card off instantly, and then turn it back on when you find it in your pocket... where you left it... no judgment here!
More
Click More to access other services offered through Online Banking. Some of the services we haven't talked about yet include alerts, E-Statements, stop payments, update information, locations and more.
E-Statements – E-Statements will allow you to view your statements online. E-Statements are safer, more secure and more convenient than paper statements, and you will receive them much quicker than traditional paper statements.
Alerts – You can set up electronic alerts to be notified of various account activities. These activities include high and/or low balances, when a payment is due, or when a deposit is posted.
Log in today to Online Banking!
Not an Online Banking user? Enroll today.